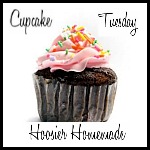 I'm linked up at Cupcake Tuesday on Hoosier Homemade!
http://hoosierhomemade.com/neapolitan-cupcakes-cupcake-tuesday/

It took me a few days to come up with a recipe I wanted to use to make Key Lime Pie Cupcakes for Mother's Day. I wanted to make sure they tasted like Pie so the lime juice and vanilla were key players in this cupcake recipe. The Graham Cracker crust and toppings were definitely bonus items. These cupcakes taste just like pie, they are so good. I'm taking them to my mom's event tomorrow because I can not have these in the house!

Here is my recipe, I started out with a basic Vanilla Cupcake:




The best way I can describe this is it's like playing with wet sand.

8 Graham Cracker "sheets" (ground up by a food processor)
3 Tablespoons of unsalted butter, melted
3 Tablespoons of granulated sugar

Mix this all together, then separate into baking cups. Press the "sand" down until firmly packed.
Then pour the batter into the sandy cupcake liners.
Cook for about 30 minutes.

Key Lime Buttercream Frosting:
1 Cup Unsalted Butter (room temp, 2 sticks)
8 Cups of Powdered Sugar
1/4 tsp of Vanilla
1/4 Cup of fresh squeezed Key Limes

Cream the butter and sugar first, then add vanilla and last add the juice. I say add the juice last because it depends on how you like your frosting.

Once frosted, top with crumbled Graham Crackers, yum!